COVERING VEHICLE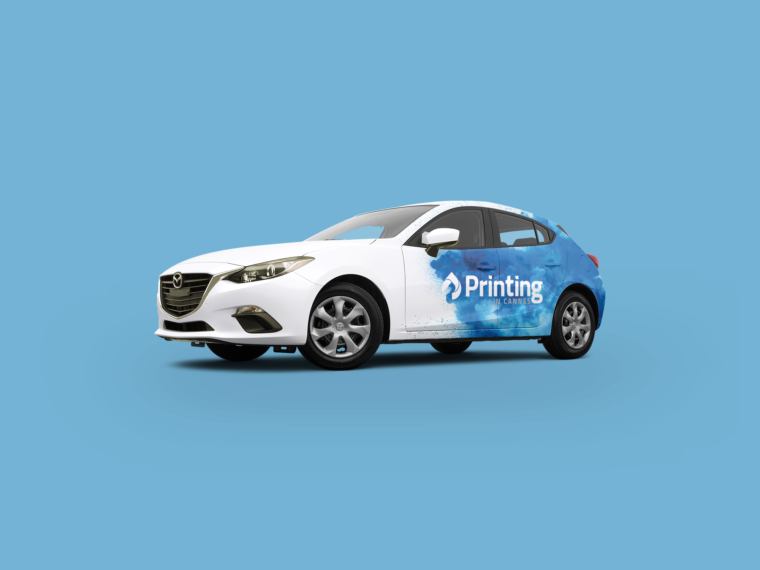 You want to give a new look to your vehicle and put your company forward, Printing in Cannes has the solution! The vehicle covering is an inexpensive technique, it offers a wide choice of colors, shapes and finishes. The only limit: your creativity.
What is vehicle covering ?
Covering consists of partially or completely filling the car body with an adhesive film.
This technique gives a new look to your vehicle, you can put forward your logo, a slogan, a drawing etc …
The benefits of Vehicle Covering
The use of the car covering has several advantages.
This technique gives you the opportunity to have a personalized vehicle that will catch the eye.
No need to use paint that has a higher cost.
The vehicle covering does not damage the original paint. In addition to not damaging the bodywork it protects it from wear and scratches.
For change and makeover enthusiasts the vehicle wrap is the ideal solution. Indeed, thanks to the interchangeable film you can change the appearance of your vehicle to your liking.
At trade shows having a personalized car with the logo, the contact details and the graphic charter of his company is a real asset, it allows to put forward his company easily and efficiently. Indeed, all your travels will bring visibility to your company, it is a real marketing tool.
Full or partial coverage
At first it is important to define the use of your vehicle (commercial, delivery, taxi …) Once this step is over, it will be necessary to adapt your message and the visual elements that you want to put forward.
The total coverage
The total pose is intended to cover the entire vehicle and therefore offer him a new look.
This differentiation technique offers a unique aspect to your vehicle, useful for developing your visibility.
Partial coverage
It is an effective and inexpensive technique. Unlike full laying, partial wiping is about customizing only part of your vehicle (roof, hood, mirrors …). Depending on the message you want to pass, it is not necessary to cover the entire vehicle. A simple logo, coordinates or slogan can be enough to attract the eye and develop your notoriety.
Options and finishes
There are two types of vinyls:
The printable vinyl
The tinted mass
They are distinguished in 3 varieties:
Vinyl monomer: used for short duration. It is sensitive to vehicle deformations and high temperatures. The proposed finishes are matt or glossy. For tinted vinyl the thickness is 75 microns with durability of 3 years. For printable vinyl the thickness is 100 microns.
Polymer vinyl: often used for partial covers. It has good durability and accepts slight deformation. It is a very good value for money. For tinted vinyl the thickness is 70 to 80 microns with a durability of 6 to 7 years. The proposed aspects are: matt, gloss, chrome, metallic, brushed, fluo. For printable vinyl the thickness is 140 microns with a life of 5 to 7 years.
Cast vinyl: used for total covers, it perfectly covers the shapes of your vehicle and offers excellent durability. For tinted vinyl the thickness is 50 to 100 microns with a durability of 5 to 12 years. The finishes are: matte, glossy, metallic, chrome, carbon. For printable vinyl the thickness is between 70 and 100 microns with a hold is 8 to 12 years. We offer a matte or glossy finish for this vinyl.
The cleaning for an assured holding
The lifetime for the covering is about ten years. However the dress may vary depending on the maintenance. Here are some maintenance tips:
Wait a week after laying before cleaning your vehicle. For subsequent cleanings, avoid cleaning in direct sunlight. For washing avoid automatic rollers.
Favor a soft sponge rather than abrasive.
Avoid the use of abrasive products such as polish, wax…
Knowing that the outfit will be better for a car parked in a garage, the wrap will have better durability than a vehicle parked outside. Do not wait any longer to drive with a unique vehicle in the colors of your company!
For other options: https://www.printingincannes.com/service/covering/